GENEVO MAX

NEW GENERATION
RADAR DETECTOR
GENEVO MAX

NEW GENERATION
RADAR DETECTOR

availability:

ready to ship

3 customer reviews
30 Days Trial Period
Free Updates
Free Express Delivery
---
Overview
MAXIMUM COMFORT ON YOUR TRAVELS
The unprecedented level of radar detection in Europe and other countries guarantees stress-free travels. And together with fine-tuned software and our signature false alert filtering, GENEVO MAX does not disturb you unnecessarily and alerts only to real threats. Furthermore,
thanks to the intuitive gesture control, you don't even have to take your eyes off the road.
NUMBER ONE IN PORTABLE DETECTORS
The long-awaited GENEVO MAX is here. With a completely innovated radar module, redesigned laser sensor and equipped with more powerful processor is with his functional and modern design the uncompromising leader in the radar detector market.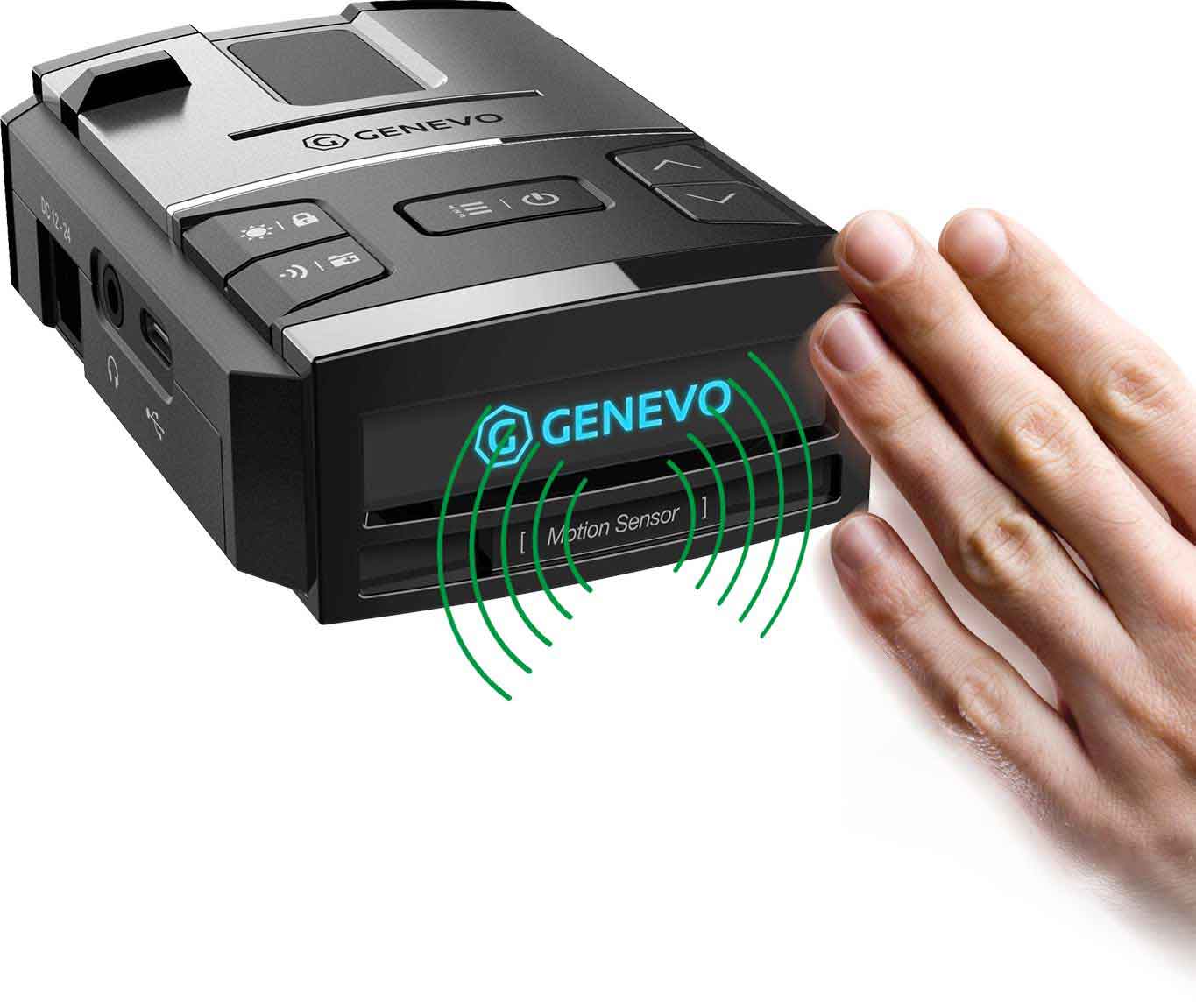 100% STEALTH
Thanks to its compact size, complete invisibility against the latest Police RDD's, or its "legalization mode" that locks the detector into displaying nothing but your GPS speed, it simply does not attract unwanted attention. Moreover, GENEVO MAX does not interfere with any speed measuring devices, making it perfectly legal in certain countries.

GREAT TODAY
AND READY FOR THE FUTURE
Regular monthly updates add to the detector new GPS locations with fixed radars and cameras throughout Europe and expand its ability to detect newly developed radar technologies. GENEVO development department issue new updates with the help of artificial inteligence that continuously processes data from testers and partners
from all over the world.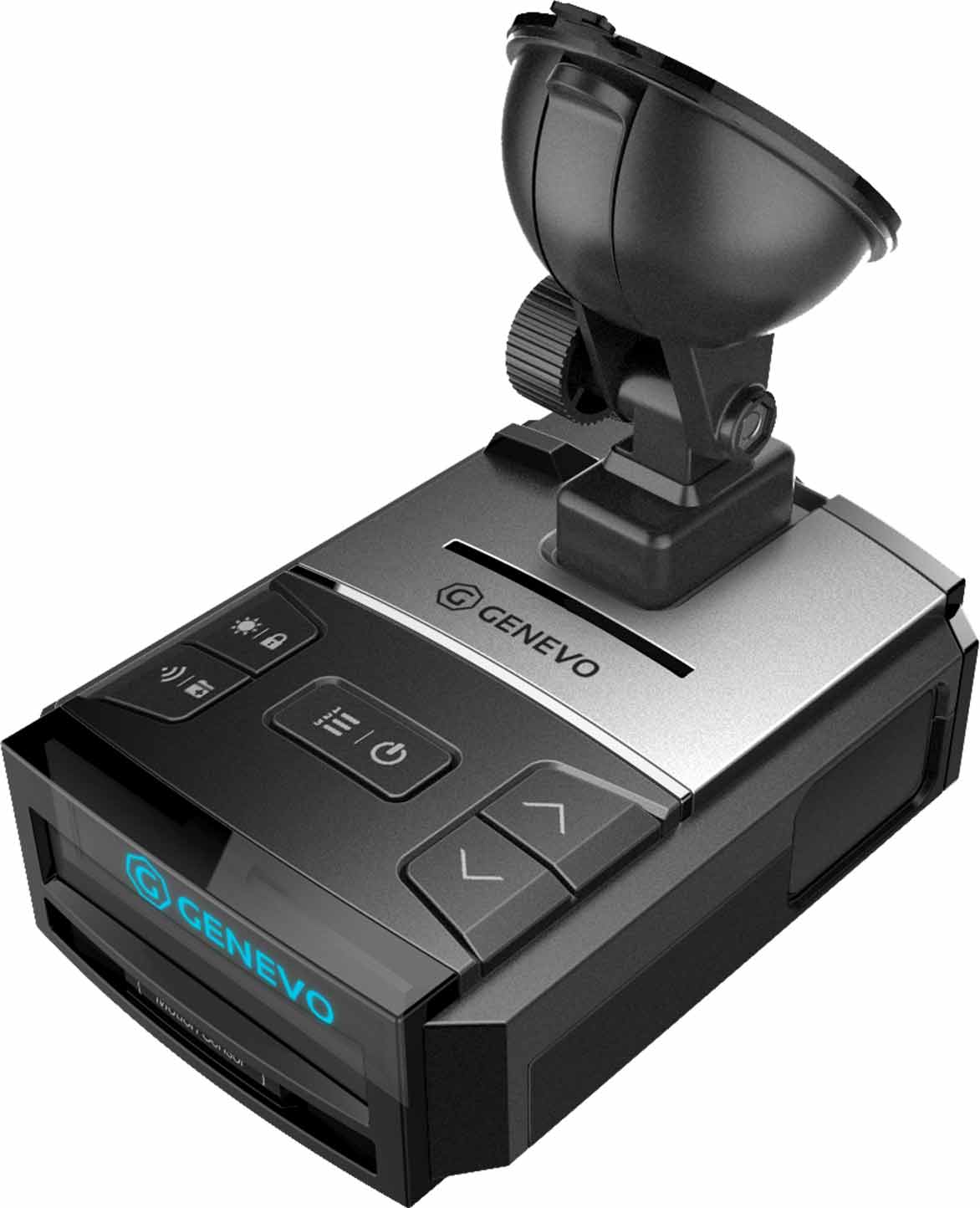 MAXIMUM PERFORMANCE
IN MINIMAL DIMENSIONS
The clean and sleek look fits perfectly into the interiors of modern vehicles. Each part of the detector has been thougthfully engineered to the last detail. The variable magnetic holder can be easily attached vertically or horizontally, new is also the multi-color OLED display with automatic brightness control or integrated jack headphone input.
Details
USER FRIENDLY
Not a tech fan? Don't worry, GENEVO MAX is very easy to use without the pain of smartphone pairing and other modern annoyances, just plug and play!
---
FREE UPDATES
System and GPS database updates are lifetime free and easy to do, now trough WIN PC and MacOS.
All done under 1 minute.
---
OLED DISPLAY
The color display now shows twice the information than before, clearly visible from all angles.
---
GESTURE CONTROL
Motion sensor for contactless operation. Mute the alarm without searching for the right button. Simply just wave your hand instead.
---
LIGHT SENSOR
Intelligent light sensor for automatic brightness adjustment. The display automatically adjusts the brightness according to the amount of light in the cabin.
---
NOISE SENSOR
Noise sensor in the cabin. The detector automatically adjusts the alarm volume according to the level of noise inside the vehicle.
---
LASER SENSOR
The laser lens has been completely redesigned and its sensitivity multiplied.
A similar laser technology is used on military reflector sights.
---
---
LEGALIZATION MODE
Mode that locks the detector into GPS speed indicator only for seamless police checks in countries where detectors are not allowed.
---
QUICK GPS
Latest 5th Generation GPS module, with AlwaysLocate ™ and EASY ™ technology, integrating GPS, GLONASS, Galileo and QZSS provides better reception in remote areas and faster startup.
---
NO DISTRACTIONS
Completely innovated false alarm filtering system that is the absolute best among competition.
---
CONNECTIVITY
Equipped with the latest USB-C standard for updates and a classic 3.5mm headphone jack for use on motorbikes.

---
WHAT'S IN THE BOX
GENEVO MAX Radar detector
Magnetic holder
Smart USB power cord
USB-C update cable
USB-C adaptor (for macOS updates)
User Manual
Life-time free GPS and FW updates

---
OPERATING FREQUENCIES
GPS: GPS, GLONASS, Galileo, QZSS
Ka narrow: 34,0 GHz, 34,3 GHz, 34,7 GHz, 35,5 GHz (±120 MHz)
Ka wide: 33,4 GHz ~ 36,0 GHz
K narrow: 24,125 GHz (±70 MHz)
K wide: 24,125 GHz (±150 MHz)
MultaRadar: CD/CT
GATSO: RT3/RT4
Laser: 904nm
---
TECHNICAL PARAMETERS
Operating temperature: -20 °C to +85 °C
Storage temperature: -20 °C to +85 °C
Operating voltage: 11 V – 26 V
Power consumption: 250 mA normal, 330 mA max. (12V)
Dimensions: 101 mm × 68 mm × 33 mm
Weight: 160 g
Languages: English, German, Czech
---
GENEVO MAX VIDEOS:
---
GPS DATABASE UPDATES
We recommend updating the database every month. Do you wish to be informed about the release of each new database update? Subscribe here.
Follow the instructions on the Technical Support page to download the newest database.
Reviews

3 customer reviews
---
Martin

So far, satisfaction, it works as I expected and I cannot praise the magnetic holder. Compared to previous versions, detaching and detaching the detector is a breeze.
---
Ondra

Best in class
Absolutely great detection and from the previous M amazing advancement in practicality (usb from charger, mute gesture, capture gps immediately after startup, etc.). By the way, spoken by a male voice (in Czech), which is absolutely great.
---
Jan

MAX
MAXimal satisfaction, fast GPS, small, beautiful design. No false alarms. In a week of operation, I could not wonder how many radars are on the roads :)
---
Before buying, please make sure that your car is not equipped with a so-called metal-coated windshield (also called dethermal windshield), which drastically reduces the performance of a portable radar detector. For more information on how to recognize these windows, read the article on metal-coated windows. The solution for cars with a metal-coated windows is a built-in set with a radar antenna mounted behind the front bumper, such as the GENEVO PRO system.
---
WHY GENEVO
We develop and test our detectors in Europe. This is the only way to guarantee maximum functionality for all your journeys.
30 DAYS TRIAL PERIOD
YEARS OF EXPERIENCE IN THE FIELD
ORIGINAL EUROPEAN COMPANY
EXPRESS FREE DELIVERY
UNLIMITED GENEVO SUPPORT
FREE MONHTLY DATABASE UPDATES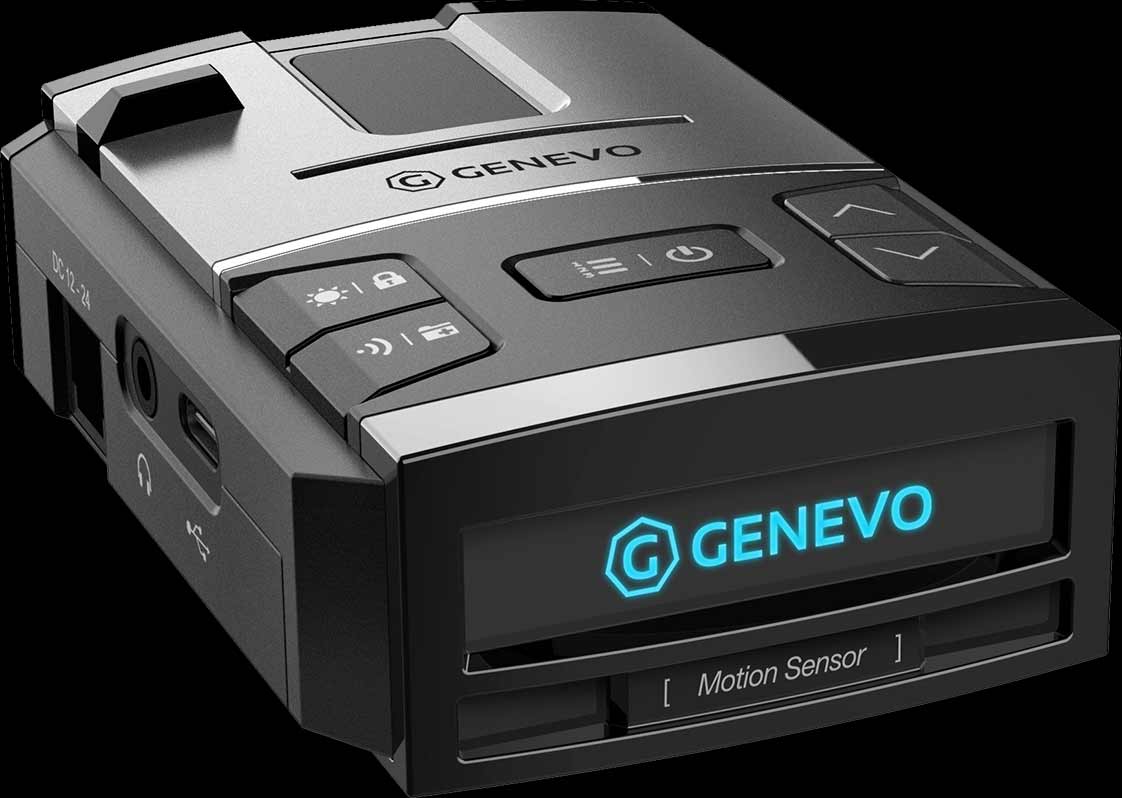 GENEVO MAX NEW GENERATION RADAR DETECTOR DRIVE WITHOUT STRESS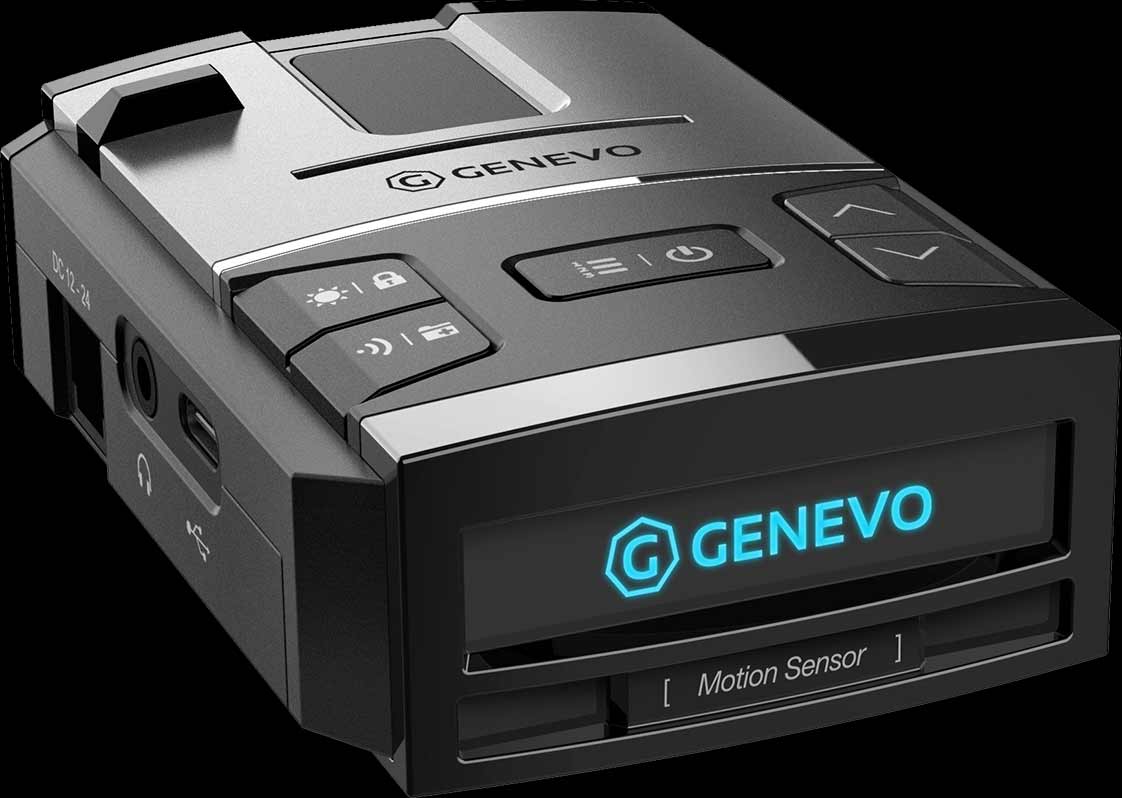 GENEVO MAX
TOP OF THE LINE
GENEVO ONE S
GENEVO ONE M
GENEVO MAX
Product reviews
Radar detection in Europe
Regular frequencies
K, Ka-band radars
YES
YES
YES
GATSO and 3D radars detection
–
YES
YES
MultaRadar detection
–
YES
YES
GPS database
of EU stationary radars and cameras
YES
YES
YES
Sensitivity
Filtering
false alerts resistancy
Advanced technologies
GPS
YES
YES
YES 5th Gen.
RDD Stealth (invisibility)
–
YES
YES
Regular firmware updates
–
YES
YES
Controls and display
Multi language menu
YES
YES
YES
Control by buttons
YES
YES
YES
Gesture control
–
–
YES
Display type
OLED mono
OLED mono
OLED COLOR
Auto brightness
–
–
YES
Auto volume
–
–
YES
Data update
GPS database and firmware updates
Free for 1 year
Lifetime free
Lifetime free
Updates via PC (Windows)
YES
YES
YES
Updates via macOS
–
–
YES
Updates via USB flashdisk
–
–
YES
Mounting
Standard windshield mount
YES
YES
–
Hybrid magnetic mount
–
–
YES
Dimensions (depth x width x height)
90 × 62 × 34 mm
90 × 62 × 34 mm
101 × 68 × 33 mm