New genevo products can detect the GATSO RT4!
15. 06. 2018
The Newest firmware in our high-end detectors finally uses full potential of the recently introduced antennas. Yes, we can detect GATSO RT4.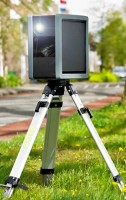 The long-awaited moment is finally here and the Newest Genevo models can detect not only the feared Gatso RT3 but also the newest Gatso RT4 speed cameras, that are being used in more and more countries across Europe.


While developing our latest antennas in Genevo ONE M and Genevo PRO M, our engineers were already working on the RT4 detection, the biggest challenge, however, was developing the software together with very sensitive filtering.
We are happy to announce that after weeks of thorough testing, the right firmware is ready and all orders from this time will be equipped with Gatso RT4 detection.
The best news for our current customers is, that we are able to update your firmware and make your current Genevo ONE M or PRO M, able to detect RT4 as well.


Notice: The best detection performance against RT4 is with the vertical mount!


We continue on developing the most powerful detectors against the world most sophisticated speed measuring systems, with our focus on developement and top quality products we are determined to stay on top of the market in order to keep our returning customers protected.


In what countries is the Gatso RT4 used?

Belgium
Latvia
Lithuania
France
Australia
to be used in the UK
to be used in the USA
to be used in the Netherlands

Newest firmware in Genevo ONE M vs Gatso RT4